Return to Homepage | Enquire on this table
A SQUARE SLATE BED POOL TABLE
Examples of a 4ft square and 4.5ft square pool dining table
Ex Works from £2000
A solution to optimise your available room space.
Slate bed competition standard pool tables in any size.
Showing 2 different examples. Any style can be created.
Competition standard 4.5ft square slate pool table
Plays as a 9ft table. Featured here in solid oak
Table subframe for 4.5ft pool table
Fitting slate to 4.5ft square pool table
Optional dining top and benches
Snooker, UK pool, or American pool standards
Optional bespoke benches in solid oak
The above style of pool table available in any wood.
And in any paint finish.
▼
A 4ft square pool table seats up to 8
Shown below with fabricated metal legs (many styles)
Can be created with any type of supporting base.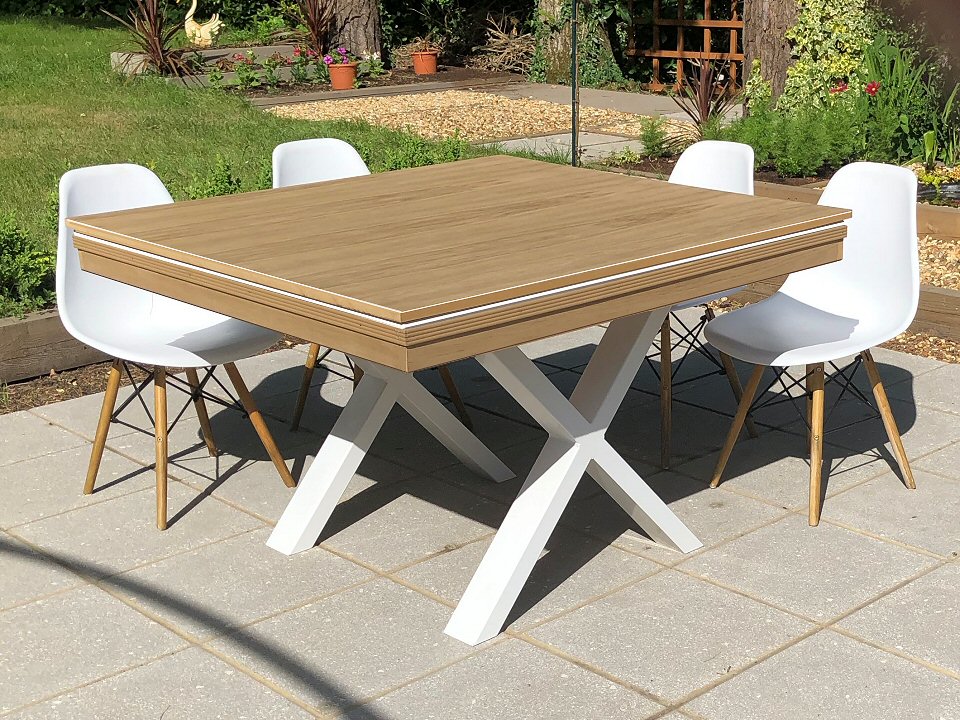 This 4ft table plays the equivalent of a 7ft pool table
Any colour combination choice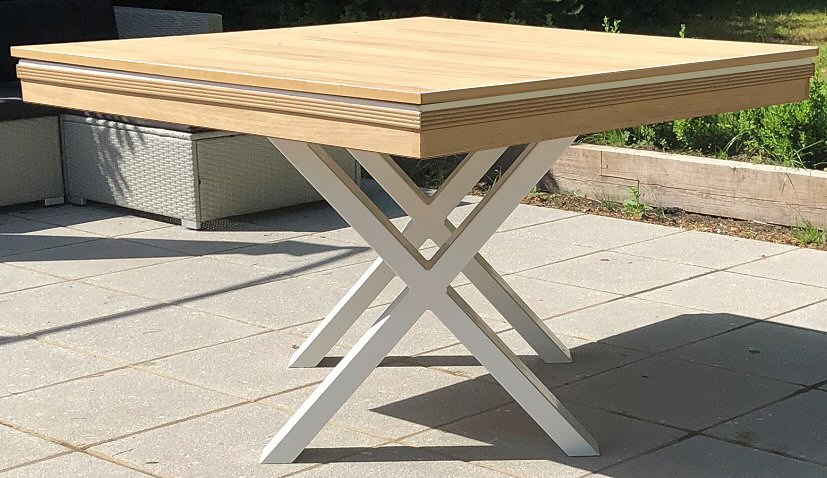 Alternative leg positioning (in the diagonal of the square)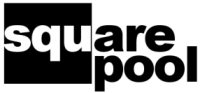 A 4.5ft or 4ft square pool table has four pockets as shown above. They have end dimensions equivalent to a 9ft, 7ft or 8ft table. Any size-dimension can be engineered. Tables normally comply with UK pool settings. Option for snooker or American pool.
diner tops + stools + convivial + intimate
frame perfectly squared + bolted fixings
4 x precision pockets

Machined square slates or 25mm machined composition beds.

Square pool diner tables work well with matching stools.

A square table offers a functional dining or meeting space.

Square pool tables are made solely on a bespoke basis.


For information state your prefered size and type.
E-Mail us at:
Email link will automatically show subject as :
"4.5ft Oak Square Pool Table page"
We will respond by email.
Navigate this site:
▼
4.5ft + 5ft + 6ft tables

go to Pool Dining Tables to plan your project

Return to Homepage for more information about us:

Homepage