COVID | ABOUT US | CONTACT | POLICIES | PAGE MENU
Matchbilliards
4.5ft. 5ft. 6ft. 7ft. 8ft. Pool Tables
Bespoke pool dining tables adapted to any size.
Slate or resin play bed. UK competition standard.


PEDESTAL
5ft, 6ft, 7ft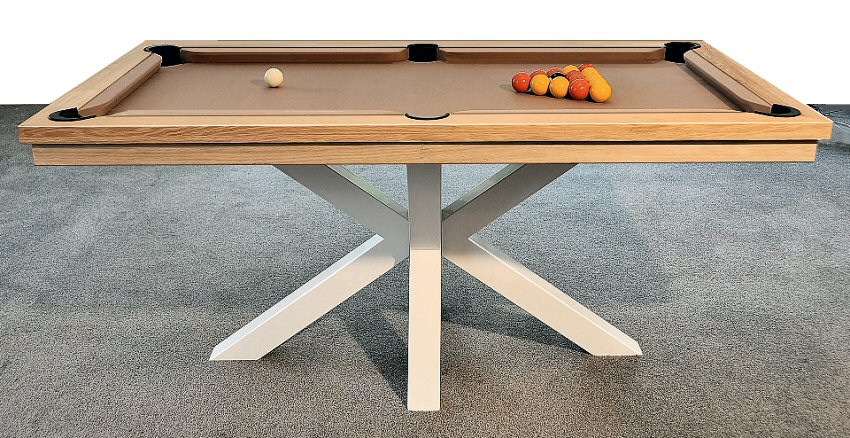 4.5ft, 5ft, 6ft
4.5ft, 5ft, 6ft
OAK SQUARE
4ft and 4.5ft
checkout more design ideas at:
5ft-6ft tables | 7ft tables | 8ft tables
or go to the Pool Dining Tables page
to plan your project
Pool dining table features

5ft pool tables for serious play

5ft pool dining tables: key issues

● designed and made in the UK
● delivered and installed by us
● choice of all ball capture systems
● 4.5ft, 5ft, 6ft, 7ft, and 8ft table sizes
● option of English or American pool size slates
● pine, oak, mahogany, ash, beech, or walnut woods
● unlimited options on colour of finish
● option of resin-bonded play-bed
● choice of matching or contrasting diner tops
● pockets and cushions set according to ball size
● Napped or speed cloth cloth in all colours
Matchbilliards.co.uk
The term "Match" means we make tables that comply with match competition standards, but it also means we can "Match" any table to suit your own decor.

Second, the term "Billiards" means we make tables that are bespoke to any of the main billiard disciples: English pool, Snooker or American pool. We can also make tables for Bar Billiards, Russian billiards (pyramid) or Carom billiards.
Sizes of Pool Dining Tables
The most popular family pool dining table sizes are 5ft, 6ft and 7ft which will normally comply with English competition (pub-style) play characteristics, using a 2 inch pool ball. This size of ball can also be supplied to play 10-reds snooker offering a wider choice of game. 8ft tables can be made to satisfy the separate competition standards of the 3 disciplines of English pool, American pool or Snooker. 8ft tables (and larger) are also ideal for use in the boardroom. When creating a pool dining table of any size we take into the consideration your preferred seating requirements, particularly on the optional table height and on the width and positioning of the table legs.
Choice of Wood
We normally make pool dining tables in solid oak, solid beech or solid natural pine. We also combine solid painted pine, to create an unlimited number of contrasting wood combinations. We also accept commissions in a range of exotic woods, such as walnut. We also offer our unique range of pool dining tables with industrial style metal legs.
Finishing and colour matching
The current most popular pool table finish is painted pine. We normally co-ordinate with the Farrow and Ball colour palettes, although we can match to the EU standard of RAL colour codes. Both pine, beech and oak can be finished as natural wood and in a wide range of proprietary stains. We also offer the option of self-finishing.
Square pool dining tables
Whilst square pool dining tables will normally conform to standard dimensions for a 4.5ft (i.e. a 4.5ft square table equates to the width of a conventional 9ft table), we are able to create original dimensions down to 3ft square (which equates to the width of a pub size table). These are precision pool dining tables, perfect for serious practice, and which may better suit your available dimensional space.
Ball capture for pool dining tables
We offer a range of ball-capture systems, although the most popular are the retractable bag-nets, which can be sized to capture 6-8 balls per pocket (when the table is dining mode the nets are tucked, unseen, under the table play surface). The second most popular is the drop-pocket system where the balls are collected in concealed pockets that are set inside the corner legs (normally collects 4-6 balls). The third most popular is the bucket pocket where the balls normally drop into the hollow of a wider leg. Finally, for old-style enthusiasts we also offer a traditional ball-rail collection.

Our kitchen-size 5ft, pool tables comply with UK pool competition standards and play a full size 2-inch (pub-size) ball. These made-to-order 5ft pool tables are ideal for those wanting to practice, or play a good quality social game. Any style can be created in any colour of finish. Matching pool table dining tops, chairs or benches are available. Can be fitted with finest Italian slate, but with the option of a reinforced one-inch thick resin bonded MDF (best for undersized pool tables, or particularly where table manoeuvrability is required)

A wide choice of luxury pool table cloth colours is offered to coordinate with your own living space. We offer either English napped or American speed cloth
5ft pool tables have a 60ins x 30ins play bed
We make range of furniture quality 5ft pool tables which is the smallest play area that complies with the established integrity of billiards. Whether it be snooker, English billiards, English pool or American pool. On these we can set pockets, cushion rubbers (type and depth) and a pool table cloth to accommodate any of these disciplines. Although most prefer to play a standard 2-inch English pool ball as used in pubs and national competitions, we can set the table to play the larger 2.25 inch balls for American pool (this would essentially be for those looking for a practice table)
5ft pool tables for a traditional game
In the drawing rooms and dining rooms of Victorian and Edwardian England, undersize "billiard" tables were common. A 5ft table was a popular size and many are still around. Although the game of snooker began to be played later, the most popular game, particularly for the undersized tables, was 3-ball English billiards. The relatively recent popularity of English (pub) pool has now relegated traditional billiards. However, 3-ball English billiards is an ideal secondary game for a smaller table and has all the fun and skill of the modern games.
Customer Enquiries on 5ft pool tables
Most internet enquirers visiting this specialist site will be searching against 5ft pool dining tables (or other undersized tables) and their need to maximise game-utility against their limited available space. This requires an often-complex interchange of information between us and the client. We know from experience that it is best begun with an email conversation. So give us an initial outline on your pool dining table project, and your broad preferences and we will take it from there.

Please consider we offer a totally bespoke service. We do not sell stock items. We would normally require 4-8 weeks to complete a pool dining table project.

Whichever your preferred size of pool dining table, you must give careful thought to these considerations:

1. Are you familiar with the cueing area required for a pool table and whether to optimise at a competition standard cue, or to compromise with a shorter cue, or an occasional short-cue for tight shots. Have you tested these variations on a room-space simulation?

2. Do you wish to play at pool table competition height (according to your game preference) or compromise at a lower dining height. We would normally set at a dining height of 31 inches (this is variable)

3. Have you determined the seating places required and considered how the design options on a pool dining table can impact on leg space?

4. Are you physically able to lift and replace a pool dining table top and are you aware of the options on sectional tops.

When researching on a pool dining table you need to consider the method of ball capture (as mentioned above). This affects both the quality of play and the aesthetics of your pool table in a room setting. It may help to offer a brief history and the alternatives that have evolved.
Traditional Method
Traditional ball capture for Pocket Billiards relied on "nets" with a leather encasement, and with brass or other metal bolts affixed to the cushions. As an additional development, ball-rails could be set below the nets to allow a visible collection of the balls and to allow selected ball retrieval. This was and is undoubtedly the most efficient and precise ball capture system and a requirement for billiards tournament play on larger tables.
Pub Billiards Method
In the 60's there was a rapid interest in coin-operated billiards in pubs and other public places. For this innovation to be viable, the table pockets had to be encased in a belly with an centralised ball collection. Most of us are now are familiar with these tables, either for competition play or for social fun.
American Billiards (Bucket or Drop Pockets)
America is the home of "pool". A distinct style of table has evolved where the balls are collected in a deep bucket pocket, which are all surrounded by by a seamless skirt, resulting in a heavy appearance, and a particularly solid centre-piece of fine furniture.
French Billiards Method
French billiards (or Carom) is a game played without pockets (a game of cannons and "snookers"). Because there are no pockets, table styles have developed based on conventional dining tables. Over the past 20 years, the design inspirations of Carom have been translated into a wide range of pool dining tables, which has sought to best disguise the traditional visual prominence of nets or bulky bucket pockets. Thus, a wide choice of pool dining table designs have been introduced, with tables that retain the essential functionality of pool, but fits less obtrusively in modern family homes, particularly as open kitchen living becomes more popular. A varied selection of such tables are featured on this site.

Each pool pool project is completed by a personal delivery and installation by the table maker (Martin Rabbets or Alan Phillips).

We plan all aspects including parking access and room entry, so that we guarantee the finished pool table will fit the pre-planned space. Expert table levelling on site. Table cloth marked out according to game preference. We normally charge against time and mileage costs. These may vary according to whether the table is made in either the Bournemouth or Hull workshop. We never rely on third party carriers, although if practical we allow self-collection at no cost.

Top of Page | Sub-page Menu

ABOUT US

Martin Rabetts of Bournemouth and Alan Phillips of Hull. Each have over 30 years billiards experience

Both provide individual expert fitting and maintenance services for all types of billiard tables and are familiar with the various specifications set by the each of the billiards tournament standards.

Martin, also a master carpenter, has developed his own niche specialism of 5ft pool table manufacture, bespoke to space and design needs.

Alan is a traditional master billiard table maker. From full size snooker tables down to any pool dining table size.

This website offers a joint administrative support, so that we best cooperate to fulfil your pool table project, whatever your location and whatever your particular preferences.

We do not sell online. Our aim is to open a communication line, primarily be email, so that we best respond to your enquiries following a meticulous stage-sequence that enables you to drive your own desired outcome.

For preliminary enquiries email the co-operative administrator at:

Email link will automatically show subject as :

"Message from homepage"

Our Policies: Privacy and Cookies

This website promotes bespoke pool tables made by Alan Phillips of Hull in conjunction with Martin Rabbets of Bournemouth.

We will present informative product information on 5ft pool dining tables tables, in a non-intrusive manner, and in a way that conforms to UK statutory regulations.

Our aim is to best facilitate sales information that is peculiar to the complexities associated with a bespoke made-to-order service. We will rely - initially and primarily - on email interactions.

We will not accept payments directly through this website nor will we operate a shopping basket system. Specifically, we will not incorporate customer log-ins, nor will we allow 3rd-party advertising within any of our pages. Therefore we do not anticipate Internet privacy issues concerning financial data or of general intrusion.

Nor is there any wider issue over the use of Cookies. Indeed we do not knowingly place cookies. We will, occasionally, rely on the Google Adwords system to encourage visitors to our site.

We will only collect customer details from these pages in response to customer-originated enquiries emanating from emails.

For this we will observe our obligations under the UK Data Protection Act. We will not release customer information to third parties other than that is necessary in the fulfilment of customer orders. End of policy notice.

Pool Dining Tables Project ►

(Plan your pool dining table project)

COVID
Covid Announcement June 2020




The Matchbilliards website offers ideas and free advice for those planning to purchase a bespoke pool dining table. This service is still available. We do not sell online.

We only enter into contractual obligations after a process of customer interaction, and when all parties have agreed on the table style and specifications. After which, ordinarily, completion takes 4 to 8 weeks. For the bespoke manufacture of most popular table styles we are currently unaffected by current government restrictions, other than with the unpredictability over the supply chain on materials and parts (for the Matchbilliards small business co-operative).

Homepage| Pool Dining Tables| 4ft + 5ft + 6ft | 7ft | 8ft