Return to Homepage | Submit an Enquiry
8ft POOL DINING TABLE
An 8ft bespoke pool table. 8ft pool tables made-to-order for home or office. English pool, American pool, or Snooker table options.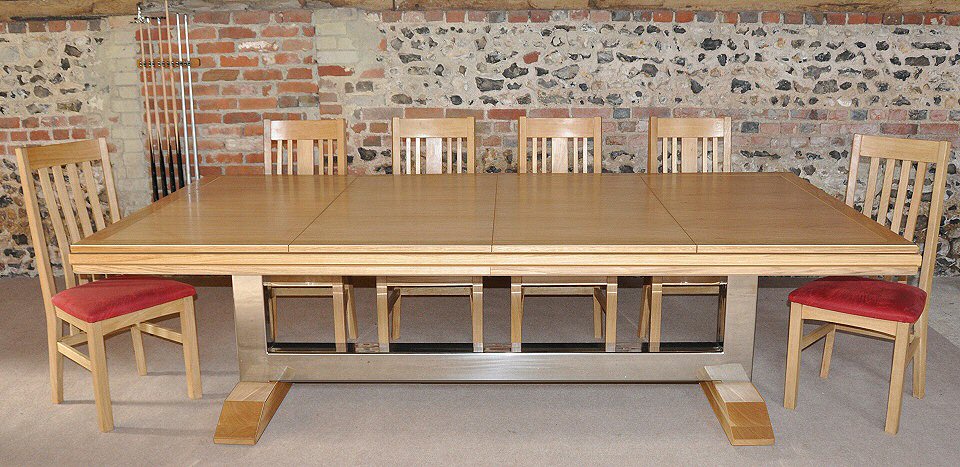 ▼
SIX STYLES OF 8FT POOL TABLE
8ft POOL TABLE SIZES
The size of a pool dining table is determined by the dimensions of the slate bed. These dimensions vary according to the separate game standards set for English Pool, American Pool or Snooker. A typical 8ft slate is 86ins x 44.5ins which gives a dining table dimension of 92ins x 50.5ins. We can fit to 9ft slate sizes if needed.
An 8ft pool table fitted with a slate bed becomes an immovable piece of furniture (can only be repositioned by a professional fitter). If occasional manoeuvrability may be required we offer the option of resin bonded 25mm MDF play bed machined exactly to slate standards.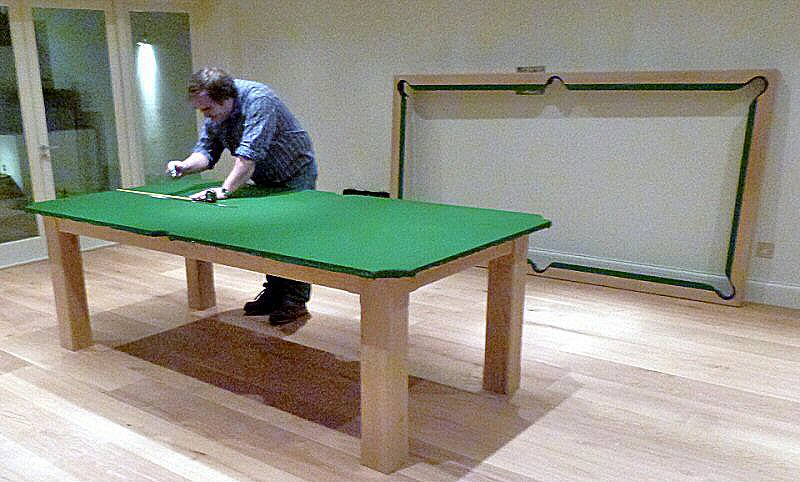 Above images show fitting a 25mm resin MDF play bed
See more in situ images at:
Please, though, first refer to our current Covid Notice
For more information on these 8ft pool dining tables
email us with your preferred style and space needs at:
Email link will automatically show subject as:
"Parent page 8ft tables"
We will respond initially by email
Pool Tables & Boardroom Tables
Bespoke pool dining tables made to your instructions and conforming to a choice of all modern billiards specifications, including English Pool, American Pool, Snooker, Russian Pool or Carom.

We offer a choice of styles of ball-capture methods including retractable nets, nets with ball rails, tray collection and drop or bucket pockets
We fit single or sectional slates according to choice of game. Plus the option of a 25mm resin-bonded wood play bed if occasional table manoeuvrability is required
FOR INFO ON SIZING GO TO POOL DINING TABLES
Choice of oak stains and colours in painted pine
Choice of cloth colours (napped or speed cloth)